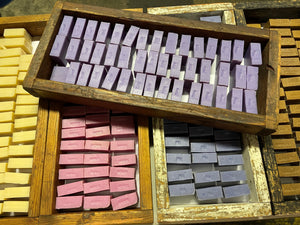 Kreamy Soaps® Since 1994
We truly hope our Kreamy Soaps® will be the finest bar of soap you will
ever use.  Our special proprietary recipe creates an extremely thick, rich, luxurious, sudsy lather.
Our pan-style method of soapmaking is simple yet complex. We handcraft from start to finish blending our own unique proprietary soap base and fine ingredients. We mix and pour our formula into small wooden soap pans and slowly bake to perfection. We then hand-cut, stamp, and package these bars just for you. This is real honest to goodness "scratch-made" soap.
We believe in doing one thing, and doing it well. Being the specialist. That's why we are very focused and do only one thing, make soap. We are the true soap experts. We are certain you will not find a better soap anywhere at any price.


Our Super Premium soap bars are durable, vegan, and all-natural. This truly is an amazing bar. We are confident that you will love our soap. : )