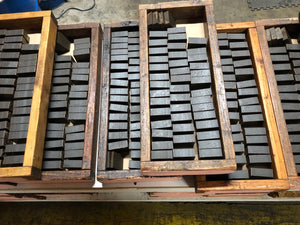 Amazing soap! High quality.
BEST FACIAL SOAP EVER!
My wife has sensitive skin and this soap is by far the best soap she ever used!
Double Pine Tar
I've been using the Kreamy line tag soap for 8 or 9 years and I love it! I used to purchase it from Whole Foods but there were only two locations i could find it at and then they were out so I ordered from Amazon a few times but this was my first time ordering from their website. I never even thought to for some reason? I had no idea they had so many different soaps. I ordered the double pine tar since I love the regular one so much. They sent me a clove soap too and I'm switching between the two. I cut the bars into three so they last longer and stay fresh. The shopping was quick! Will definitely be ordering from them from now on! Thank you! Love the soaps!
Double Pine Tar Soap
This soap is the absolute best! Helps with various skin issues. Love that it is double strength. Wil not be without this soap!
Incredible long lasting soap.
I was quite surprised this pine tar soap last so long, and at the same time was two creamy. A wonderful shampooing soap as well as providing pine tar benefits.